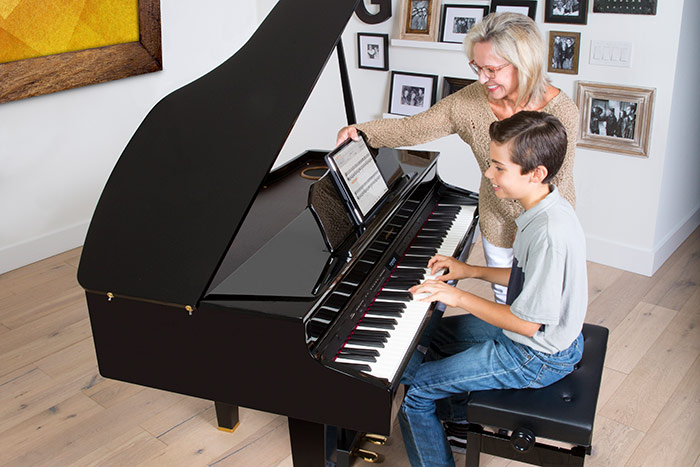 Piano lessons can be a difficult decision for adults. It's not uncommon to worry about the time commitment, expense, and whether or not it will actually lead anywhere. The good news is that there are plenty of reasons why taking piano lessons as an adult can have big payoffs.
A common apprehension
Many adults are interested in taking piano lessons, but they don't know where to start. Piano teachers can be hard to find and even if you do find one, it's not always easy to get the time and money together for a lesson.
If you are thinking about taking adult piano classes anytime soon, here's a quick guide that you may want to check out:
It's worth studying with an actual teacher.
Online training is great, but it's always good to have a piano teacher. You can learn just about everything from them and they will help you reach your goals! The support system of people encouraging each other as we learn new skills should not be overlooked either – these are invaluable in keeping us on track with our goals in becoming musically inclined.
What are your goals in taking piano lessons?
What do you want to accomplish as a piano player? If it's performance, then be sure your goal is clear and specific. Do not perform for an audience unless this is what motivates and inspires you.
For most people taking adult piano classes, they usually want to learn to play their favourite songs. This goal may pale in comparison with those who intend to master the craft, but it helps in motivating them to strive and learn more. By the end of the piano class and they get to perform their favourite pieces, that's already a big feat.
Start with the basics.
Learning to play the piano is a lifelong skill, but it's important not to start without knowing how. If you don't already know your fundamentals of reading music and playing an instrument well enough for beginners like yourself then make sure that this knowledge becomes second nature before moving on.
It will be difficult later if one does not master their basics; they may find themselves in a slump and not moving beyond where they currently stand.
Practice, practice, practice.
Set aside time for your piano practice. As with any skill, if you don't regularly commit yourself to the task then it will be difficult and feel like a chore rather than something enjoyable which can lead you away from wanting practice at all! It's important that each session be limited in length but make sure there is enough content available so as not to get bored or lose motivation quickly- 30 minutes every day may seem like nothing on paper. However, over weeks this adds up and gives you your desired result: habit of consistent everyday work ethic towards improving musical skills
Play the music genre you like.
Music can be an enjoyable and rewarding hobby for many people. If you're looking to play the piano, start by playing songs that are simple enough so as not frustratingly difficult; tunes like pop music often have catchy melodies which make them easier than other types of classical pieces might be. Finding your favourite type will motivate us all–the next time we practice our skills at home or in front of friends alike.